Create an account
The registration of SINA Club is free and allows you to enjoy numerous benefits, exclusive offers and promotions within the reserved area.

Register now and get up to 15% discount on our best internet rates!
Subscription
7 days / 6 nights
Individual cycle tour
This newly developed tour is a real treat for all cyclists! Staying in Sina Villa Matilde, you can discover a new highlight of the "Canavese" region every day. On your way, you will find historic castles which have been waiting for centuries to welcome you. Natural lakes provide a welcome refreshment during an active day of cycling. Fine wines are produced in the vineyards, along the "Strada Reale dei Vini" - the royal wine route. Let yourself be tempted by one or two glasses of great Italian wine and follow the traces of the Franciscans on their way to Rome. There is a lot of variety in this region still largely undiscovered by tourists.  After the tour you will agree with us – this trip is truly an insider's tip!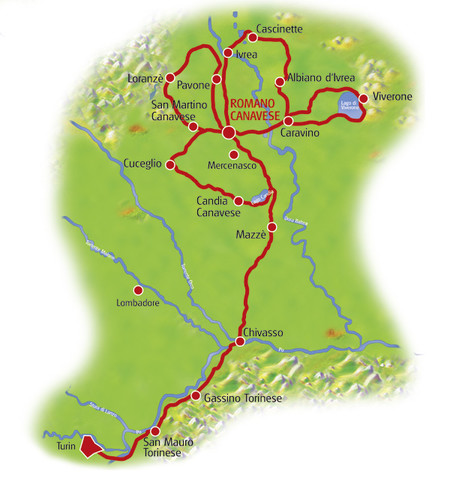 Tour itinerary
Day 1: Arrival in Romano Canavese
The hotel staff at the reception desk will provide you with tour information and rental bikes. Afterwards, you still have enough time for a walk through the medieval town.
Day 2: Lake Candia approx. 40 km
Your first bike tour will lead you on attractive trails along the river Dora Baltea to the South. Soon you will have reached the beautifully situated lake Candia. The lake invites you to jump into its clear water. After a longer climb (4 km) you will reach the top of the moraine hills from which you will have a beautiful view of the surrounding area. Along the royal wine route, you will get back to your hotel.
Day 3: Ivrea and its Lakes approx. 50 km
Through meadows and fields, today's stage leads you to Ivrea. The river Dora Baltea has dug a deep riverbed, offering spectacular views. After a short rest in the medieval city centre, you will continue your tour to two mountain lakes nearby. Romantically, they invite you to swim for some time. Later, you will return to your hotel, cycling along the old Franciscan Road, which was an important pilgrimage route for the monks to Rome.
Day 4: Turin and the River Po approx. 60 km
In the morning, you will take the train to the capital city of Turin. Here, not only the great Piazza Vittorio Veneto will impress you. There is a lot to be discovered in this lively city. A nice bike path along the river Po leads back to the North. In Chiavasso, you should stop for some time. In the small town on the river Po, with its little sidewalk cafes, real Italian lifestyle is lived. The road back to your hotel leads past the castle Castello Mazze from which the valley had been guarded for centuries.
Day 5: Lake Viverone approx. 40 km
Very athletic cyclists may visit the impressive castle Castello di Masino at the beginning of the tour (very steep rise for approx. 2 km). If you prefer a more relaxed daytrip, you can follow the route over gently rolling hills and through small towns with historical churches and small castles. You will also get nice opportunities for swimming and sunbathing at the lake promenade in Viverone. Later, you will continue your tour through an agricultural landscape. Kiwis, peaches, and grapes are grown right along the bike course.
Day 6: The Moraine Hills approx. 35 km
Through corn fields, today's tour leads you to Castello Pavone. After a short climb, you will reach the top of the moraine hills. Nice views of the valley will compensate for the climbs you had to conquer. Small castles can be seen cycling along the royal wine route. After an exhilarating downhill ride, you will again reach your wellness hotel.
Day 7: Departure or extension 
For more informations and reservations please contact us >